FIRE
�
I'm In Need I Can HelpLocal ResourcesDonate
A Word from Pastor Ross:
This page was designed to assist the congregation of The Rock, many who were under evacuation orders and displaced those first couple weeks, along with the 40-plus members who lost their homes, to provide the latest news, photos, testimonies, and practical information concerning the fires. As you scroll down, this is what you're going to see—a chronicle of a crisis.
And the ordeal is far from over. For those who lost their homes, and everything in them—there's a new way of dealing with time: "before October and the fire," and now it's, "after the fire." It will be several years before homes are rebuilt and the neighborhoods begin to get back to normal. Driving through areas of Fountain Grove, Larkfield, Coffey Park, etc., is still a very surreal experience—where lovely homes, well-manicured lawns and wine-country, picturesque landscapes once were—now those same places are eerily deserted, charred black, and very, very sad.
But the good news, of course, is that although we have a great challenge ahead of us, we have an even greater God, who specializes in rescuing, restoring and redeeming. Many people have come to faith as a result of the catastrophe—this past Sunday a husband introduced me to his wife who had never been to church, who was now very open to the Gospel as a direct result of this trial. There are dozens of these kinds of stories filling our hearts with hope, peace, and a joy made possible only by the presence of the Holy Spirit—who is working all things together for our good.
Some of the victims have left the area—they have used this loss as a time to start over somewhere else (i.e., nearer to grandchildren, etc.). If they were home-owners, some are selling and buying somewhere else in town, while others are rebuilding right there on the same site. Please keep these folks and our church family in your prayers as we begin that long arduous journey forward together.
So thanks for coming to our website, and the part you play in helping people heal and bringing a little comfort to those who have suffered great loss.
We are so very proud of everyone who's a part of The Rock family for your awesome attitudes, genuine faith and generous hearts! We love you guys!
God bless,
Pastor Ross
There are several sermons that were born out of this troubling time that are forming a series called, "Through the Fires." Many have found these messages to be especially relevant and comforting. Here's the link: Through the Fires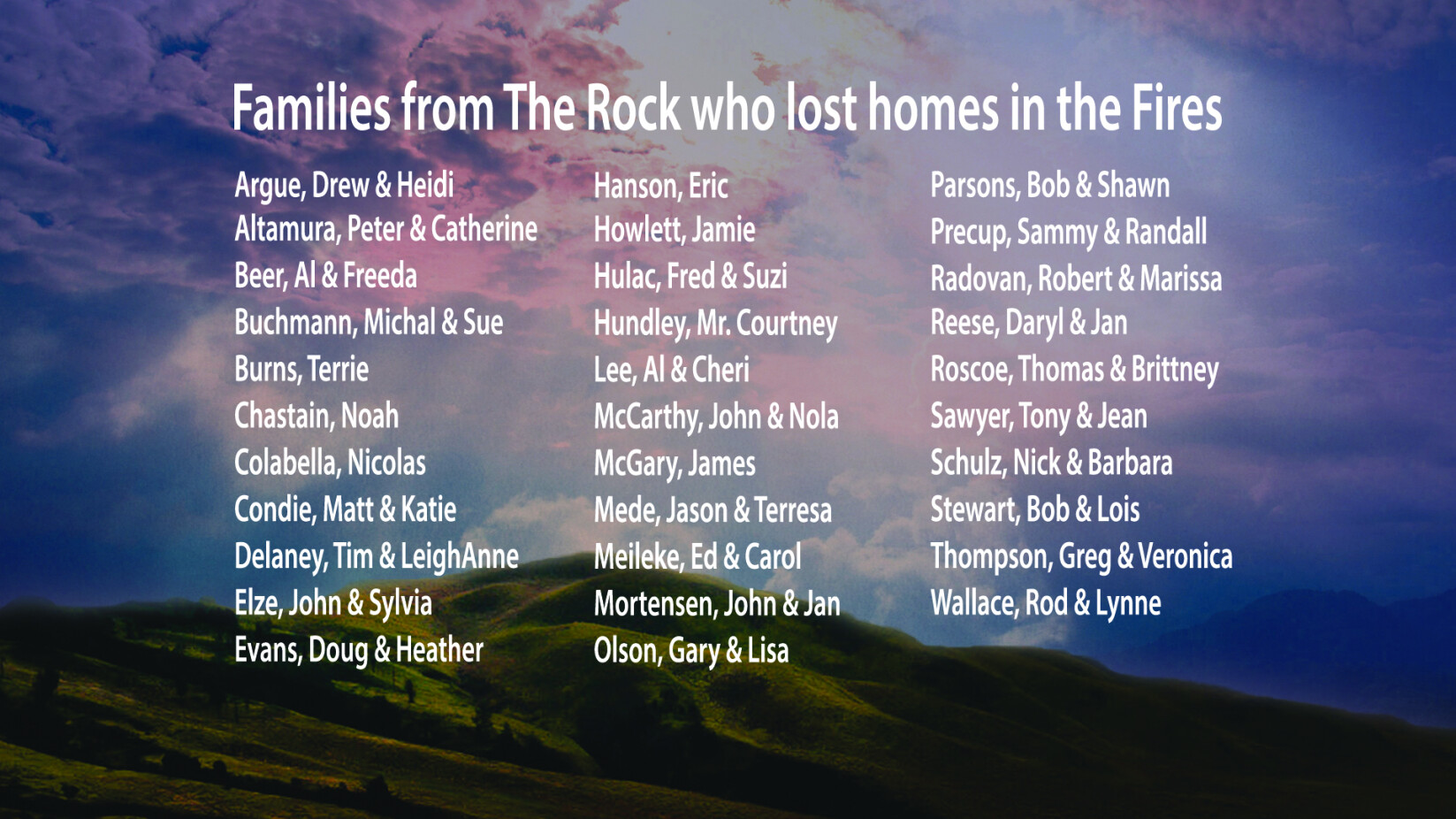 Testimonies from Church Members
---
Past Updates:
Update Tuesday, October 31,2017
Dear Church Family,
After three long weeks, the pastors and staff are finally back in the church offices after they have been professionally treated for smoke damage. Slowly, but surely, we are getting back to normal. The ministries and worship services are are now back in there regularly scheduled places. Thank you for your prayers and your encouragement – God has been so gracious and faithful to us all!

The fire victims have begun the long and arduous process of rebuilding their lives. Things have stabilized for many, but still the shock and grief lingers of having lost homes, keepsakes, and everything one accumulates over many years. The church has received generous donations and those donations have been disbursed to those in need helping to ease the grief and speed things along toward healing and restoration. Thank you for your generous giving!

Coming up this Wednesday, November 1, we are having a testimony night. Several families who have lost their homes will be sharing their stories, highlighting how the Lord has been helping them through this ordeal. Be sure not to miss this encouraging time together!

See you in church!
Pastor Ross
---
---
Update Thursday October 26, 2017
Dear Church Family,
The building is still being treated for smoke damage. Things are coming along! Regular services will be held this Sunday, the 29th. We are hoping to resume all ministries and the Wednesday evening midweek study following Sunday! Praise the Lord!
How wonderful to be back home last Sunday worshipping together there at The Rock! There was a sweet spirit of encouragement and love in that place and a sense that God is with us and is "our ever-present help in time of trouble." The devastation is far from over for many in our church and community but little by little and day by day restoration and rebuilding is happening.
We are planning to have a testimony night soon where we can come together for prayer and worship and hear some of the amazing stories from our brothers and sisters who have been through the fire. Details to follow.
If you, or someone you know, is still in immediate need, please make that known to us so that we can be of assistance. As we continue to receive donations we are able to be a blessing to those who are struggling at this time. Thanks for your prayerful support. Updates on Sunday.
Barb and I are settled back in our home and have everything we need… So good to have a routine again, but we are painfully reminded of those who are still displaced and inconvenienced at every level. God will come through--He always does!
We love you all--and remember: Those who refresh others will themselves be refreshed. Proverbs 11:25.
We love you all!
God bless,
Ross and Barb--and the pastoral staff
---
Wednesday, October 18, 2017
THERE ARE NO SERVICES OR MINISTRIES TAKING PLACE AT THE ROCK THIS ENTIRE WEEK DUE TO THE EVACUATION. We will be meeting at The Rock this Sunday (10-22-17).

Dear Church Family,
What a powerful and healing worship service we experienced together on Sunday! Over 700 of us gathered together, standing room only, at Hessel Church. What a joy to sing out praises together at the top of our lungs! We were able to honor our first responders with a rousing standing ovation and pray over our families who have either been evacuated or have lost their homes. You could hear a pin drop as I read the list of 30 names. We were able to meet afterwards with those experiencing the worst losses and help get some practical help flowing their way. Psalm 46 the perfect text to comfort our hearts. (The sermon is now up on our app and our website.) People hung out afterwords for a couple hours catching up, eating pinwheel sandwiches, and encouraging one another. This disaster has brought out the best in our church, and Barb and I, and the pastoral team, are so very proud of each and everyone of you and honored to be your pastors!
This afternoon I met with area pastors and the pastor who is heading up the Calvary Chapel Association Disaster Relief Fund for our area. Lord willing, this will prove to be of some help to us as we continue to reach out to those in need. Our members, along with some other churches who have heard our plight, have been very generous, and we have been able to be a blessing to many! There are also a few relief agencies that have reached out to us, and we are currently discussing how to coordinate their resources and our needs. All that to say, there is help being offered to us. Praise the Lord!
On a personal note, Barb and I, like so many of us in Santa Rosa, spent our first night in our home yesterday. The house smells a little bit like smoke but we have a house! And we are so grateful.

We almost cried (well, Barb did...) when we saw Zander's ball and the play set for the grandkids!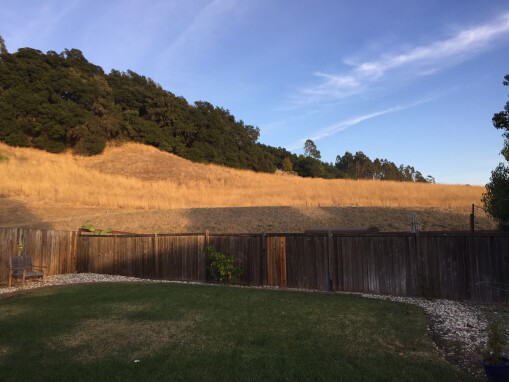 This is the view from our backyard where the orange glow and roar came so very, very close!
Every day we hear more and more testimonies of how God is working in such wonderful ways. Keep trusting, keep praying, and keep serving others, as we wait patiently together for the Lord.
Lots of love!
Ross and Barb
---
Update from Saturday, October 14, 2017
Dear church family,
We are so excited to be able to gather together tomorrow afternoon at 1 PM at Hessel Church. Just to be clear, the congregation at Hessel will be leaving their morning service a little early so that our congregation can use their facility. I will be speaking and sharing from the Word and we will worship and pray together. There will also be a lot of helpful updates concerning our fellowship and information on resources for those who have lost their homes or are evacuated. Keep praying, keep looking up, and we will see you tomorrow!
- Pastor Ross
---
Update from Thursday, October 12, 2017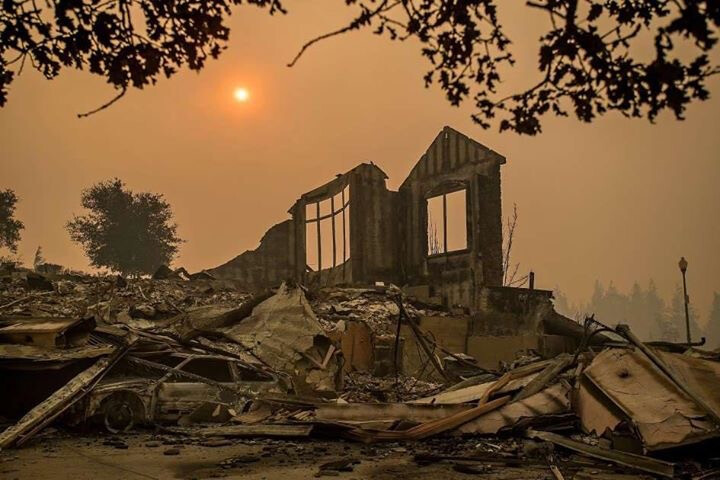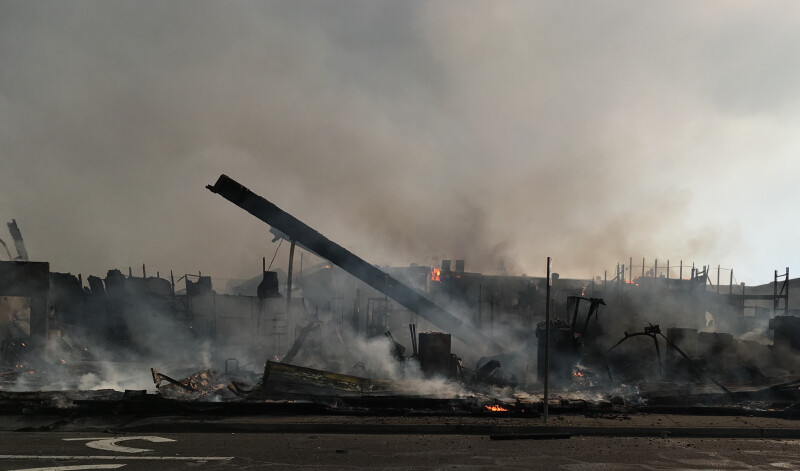 Hello Church Family,
Praise the Lord, O my soul, and forget not all his benefits! (Psalm 103:1) Even in the midst of loss, struggle, and hardship, God is good and worthy of our praise! We look forward to gathering on Sunday and singing His praises together, comforting one another in his love, and being encouraged in the Lord. And will have a chance to do that this coming Sunday, thanks to the generous, kind offer of our good friend, Pastor Rich Cundall.

Because our church facility on Piner Road does not yet have power and access to Piner Road is still difficult, we are unable to meet there Sunday.

CHURCH SERVICE THIS SUNDAY, OCTOBER 15, WILL BE AT HESSEL CHURCH IN SEBASTOPOL AT 1PM. Please spread the word!

We will have one large, family-friendly service. Afterwords, there will be refreshments so we can spend some time together and catch up with one another.

At this point, there are at least 30 families who have lost their homes from our fellowship. (The Roscoes, our worship leader, their apartment complex on the Hopper burned down. They escaped as the complex was on fire.) There are many stories like this. Many of them have insurance but the grief is still great. I don't think there are any words to describe what it must feel like to lose everything! All of these will need to either rebuild or find a new home. Some of them were not adequately insured and we are hoping to be of some help to them, and not just them, but to everyone who's hurting.

We'd love to hear your stories and share some of them on this page for others to hear and pray and so that way we can be sensitive and helpful to those we know who are hurting. Send your testimonies to Pastor Carlin at . (Today we have a letter from Tim and Leigh Anne Delaney.)
Tim & Leigh Anne Delaneys' Story

If you're in need, please fill out the form on the link provided on this page. People are being very generous with their time and their resources and we look forward to connecting those who are willing to help with those who have need.

From the staff, Barb and I, Zack and Caitlin Reinman, Zackariah and Jordan Brownell, Pastor Carlin and Jeanette, Sherilee Williams, Pastor Adam Wilson and Katie, are still all displaced/under evacuation orders and away from our homes, as are many in the congregation. All of us are safe and have adequate housing at this time. Please keep us all, and the church family in your prayers and will see you Sunday!
- Pastor Ross
---
Update from Wednesday, October 11, 2017:
Sammy and Randall Precup's House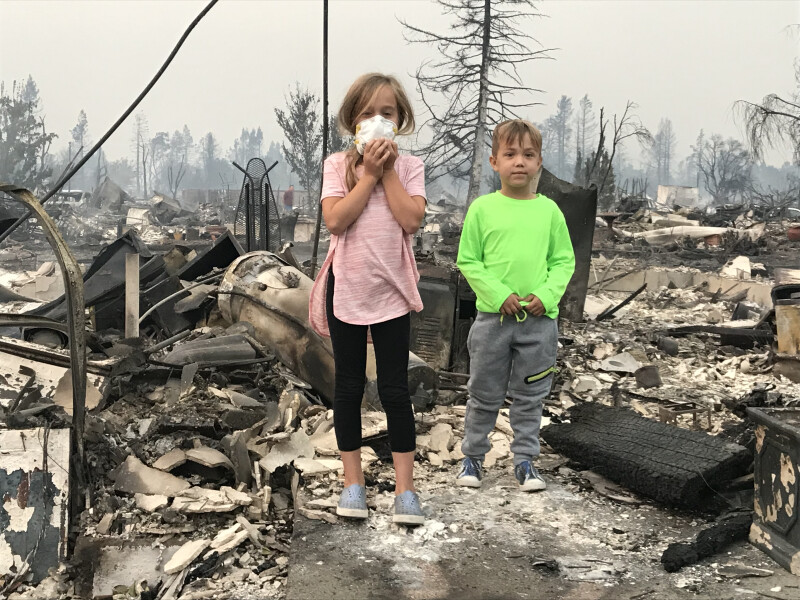 ---
Update from Tuesday, October 10, 2017:
Dear Church Family,
Barb and I, along with several other staff, are still under evacuation orders away from our homes, but we are all safe and have temporary places to stay.

There are at least 24 families in our fellowship who have lost their homes and we expect the number to climb. Our hearts go out to you. There are no reported injuries. Amazingly everyone we have spoken to is in good spirits, full of faith and drawing near to God--even though there is terrible heartbreak. Barb and I, and the whole pastoral staff are grieving with you and standing with you in prayer. God will prevail and bring something beautiful from the ashes.

The church building is in an evacuation zone and we are still prohibited from entering the building or being on the property. The shops on the corner of Range and Piner are burnt to the ground and some of the structures on Piner are still on fire. ALL SERVICES/EVENTS ARE CANCELLED THIS WEEK. Sunday services are pending as we wait for the all clear. We will let you know by Friday about church on Sunday.
Piner and Range road. Gun shop and furniture store by church.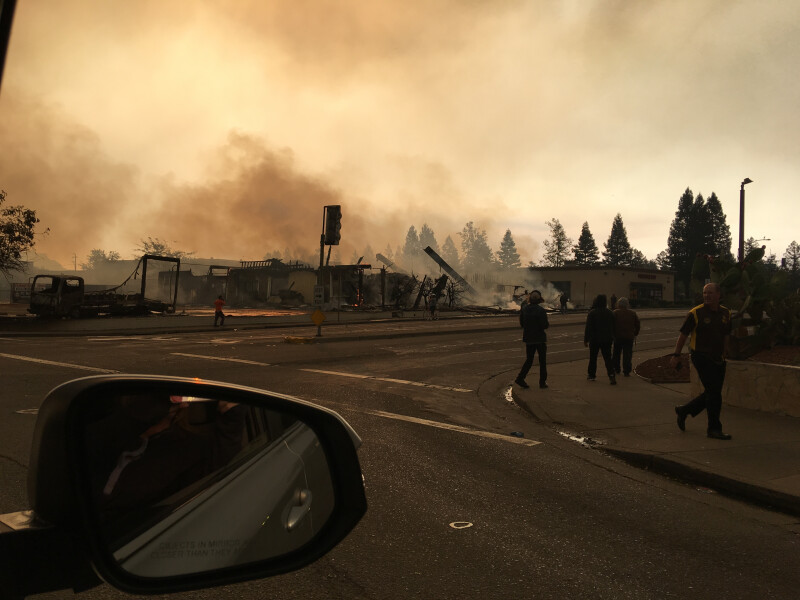 Moble Home park next to church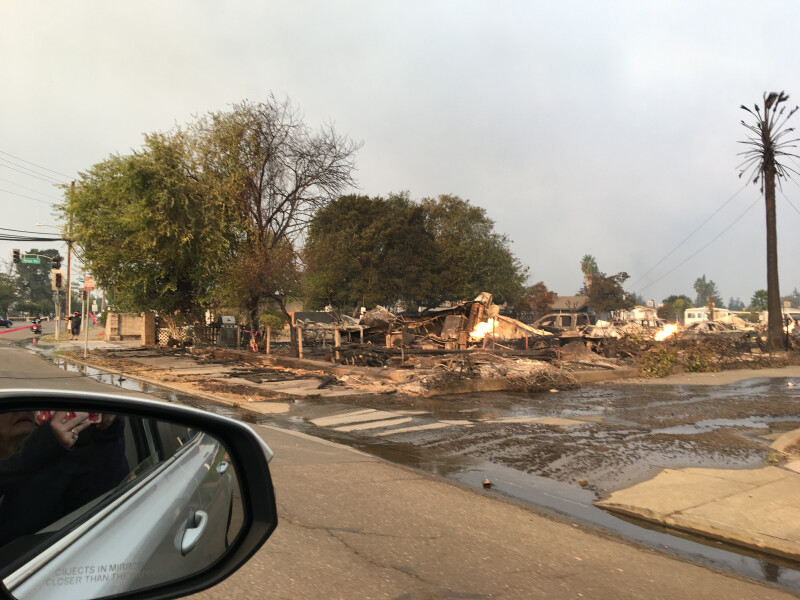 ---
IF YOU'RE IN NEED
There will be a daily update on this page. If you have lost your home or are under evacuation orders and need assistance, click the link above and let us know how we can provide assistance.

IF YOU CAN HELP
Click the link above if you can house a family temporarily or wish to donate toward the fire relief fund.

Interesting, the Sunday service--especially first service--closed with Jesus' words about His followers being tested through the fires of tribulations. It wasn't even 24 hours before many of us saw those words come to pass in quite a literal sense. Along with the fires of testing, comes the faithfulness of the Lord to sustain us and work all things together for our good. Here's an encouraging word:

Isaiah 43:2 (NIV)

When you pass through the waters,
I will be with you;
and when you pass through the rivers,
they will not sweep over you.
When you walk through the fire,
you will not be burned;
the flames will not set you ablaze.

We love you all! Keep looking up because His appearing is near!
God bless,
Pastor Ross and Barb, and the team here at The Rock