WOMEN'S MINISTRY
STUDIES
Our desire is to see the growth in our relationship with Jesus to be evident in our relationships with each other as we share our lives and apply what we learn from the Bible. For that reason we offer Bible studies at many various times of the day to help Ladies to attend a study that best fits into their busy schedule. Find one of our current studies and get involved and make new friends from the Rock!
Ladies' Evening Bible Study
Resuming in the fall.
Ladies' Daytime Bible Study
Ladies' Weekly Daytime Bible Study
The weekly study is taking a break for the summer. Please check back in the fall for information on the next study!
MOM's Group
Open to Mothers of Children!
A unique gathering of mothers to gain a deeper walk with the Lord and inspiration in parenting. Join us every second and fourth Friday of the month to fellowship and grow in our faith!
Babysitting will be available.
A new entity is a HomeSchool Co-Op! If you are a home-school family contact Shirliza or Jenny and join together with other moms and bring your homeschooler!
For more information contact: Shirliza Oaks -
Jenny Olson -
Women 2 Women
A topical discussion group for women over 55. Meeting monthly to fellowship and discuss topics that are associated with our lives in this season.
For more information contact: Kim Klein -
Ladies' Mentor Intensive Training
Our ministry purpose is to train and equip women to do one-on-one mentoring within our church family in the spirit of Titus 2:3-5. Our desire is to facilitate, support and direct the development of mentoring relationships among women at the Rock. Biblical Mentoring is a training that directs women to the Word of God for answers in life matters. We believe that we are called to train and raise up women to know the Word and follow Jesus.
Due to the nature of the class, this is not a drop in study, Pre-Registering and purchase of curriculum ($35) is required.

For more information contact: Laurene MacPhee -
EVENTS
Through the year there are special events planned to gather, have fun and meet new faces. Check the church calendar for details. In the year 2016 we went bike riding, canoeing, went to yard sales, museums, had a clay shoot and hiking!! Watch the calendar for what we will be doing in 2017!!
Craft Workshop
Meets the first Monday of the month at 6:30-8:30PM in the Children's Ministry Department. Bring your crafts or sewing projects and work with sisters in the Lord and enjoy a fun evening of fellowship!
For more information contact: Jan Wolverton -
Women's Ministry Leadership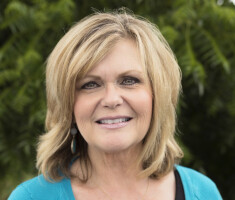 Barb Reinman
Women's Ministry Director
Office: (707) 843-5015
E-Mail: