JUNIOR HIGH
Identify Jr. High Ministry
The transition from childhood to adolescence can be a very challenging time for the youth in our culture. There are conflicting pressures and persuasions which seek to win the allegiance of the next generation. In this struggle for our youth to find a place to "fit in", it is our hope and prayer that the students in this group would respond to the message of acceptance, stability and security found in Jesus. We desire to help them find their identity in Him.
Wednesday Nights 6:30 PM
The JH group is made up of 6th-8th graders. We meet on Wednesday nights, 6:30-8:00pm, during The Rock's mid-week service. We begin with a short activity, followed by announcements of upcoming events, musical worship, a Bible study, and a fun game to round out our time together.
Monthly Activities
Outside our regular meetings, we get together at least once a month for an activity, including Laser Tag, Lunch & A Movie, Field Day, Beach Day, Corn Maze, Christmas Party, and more!
Annual Retreats
We participate in two youth retreats throughout the year. In the winter we go to Woodleaf, a Young Life facility north of Yuba City. It is always a high energy retreat, where several hundred Jr. High groups from Calvary Chapels and other churches come together for great fun, food, worship, and teaching from renowned speakers. We also have a summer retreat, which may vary in location, but is always filled with interactive fellowship and teaching; and the students always return buzzing about what they've learned and experienced together!
Jr. High Pastor
Our junior high pastor, Adam Wilson, graduated from Calvary Chapel Bible College and is continuing his studies through seminary. He and his wife, Katie, have a burden to teach and exemplify the Word of God to younger generations (including their two lively sons Deutro and Ames) and to help them become true disciples of the Lord Jesus Christ.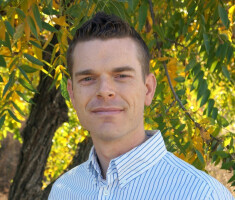 Adam Wilson
Pastor of Student Ministries
Office: (707) 800-6127
E-Mail: