HIGH SCHOOL
HIS High School Ministry
For many teens, life is all about the friends you have, the people you hang out with, and the group you belong to. Peer influences and popular trends often steer the interests and affections of high schoolers toward particular individuals or groups. Our aim is to help students see the bigger picture of how Jesus has invited them to be part of the "in" crowd, where they can both uniquely and collectively share His great love with one another and display it to those who do not yet believe. Our prayer is that as they love each other with Jesus' love, the world will see that they belong to Him.
Friday Nights 6:30 PM
The high school group is made up of 9th-12th graders. We hang out on Friday nights from 6:30-9pm and enjoy connecting over a simple dinner and conversation, followed by musical praise, a Bible study, and small groups. Our time in the Word of God is interactive, purposeful and beneficial, and our hang-out time is friendly and intentional.
Monthly Activities
Along with our regular meetings, we enjoy many other events and activities throughout the year. We schedule at least one fun activity each month, like Laser Tag, Broomball, Rebounderz, hiking, movie nights and more! There's also discipleship groups, student extracurricular events, and service opportunities. All of our events are designed to encourage fellowship and outreach.
Annual Retreats
A few times a year we get away from the regular routine of life in order to build friendships and strengthen our relationships with the Lord. Whether it's off to Woodleaf to take part in a high-energy, Christ-focused weekend with hundreds of other students, or to Hume Lake to enjoy 'Christian outdoor Disneyland' in God's beautiful creation, or road trips to Green Valley to hear phenomenal speakers and make lifelong memories, high school camps are always filled with good fun, great food, lasting friendships, and transforming encounters with the Living God!
High School Director
Our High School Director, Garrett Robert, is currently enrolled at Cornerstone Bible College and Seminary, where he plans on finishing up his education. God has placed it on his heart to teach and proclaim the word of God to the youth in this community. He and his wife Claire are eager to see the Gospel of Jesus Christ grip the hearts of students as He encourages and transforms their lives. Our goal is that Students would come to know Jesus Christ as their personal savior and to grow in their relationship with him.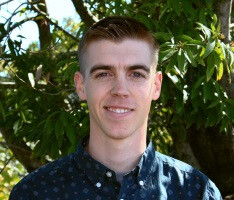 Garrett Robert
Director of Student Ministries
E-Mail: